Sometimes even a big bedroom appears small yet congested. The problem is 'NO PLANNING' while decorating your bedroom. If you are moving to your new house or planning to redesign your bedroom, you need to plan first and go online to get some tips and ideas on how to make small bedrooms look bigger. You will find thousands of results regarding this keyword by the different bloggers and interior designers guiding you to make your living better.
We have discussed some brilliant sneaky and easy to apply ideas to your bedroom. You can try these small bedroom hacks to bring some charm to your bedroom once you had on your newlywed bedroom interior.
How to Make Small Bedrooms Look Bigger
Structure of Small Bedroom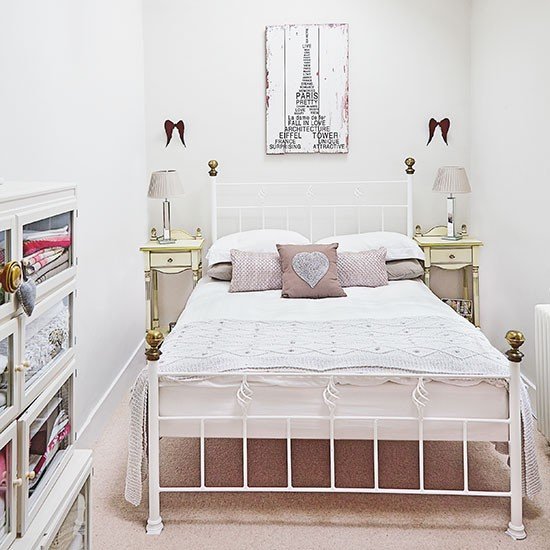 The design structure of your room is first to determined while revamping your bedroom. Some bedrooms have large areas for windows while some have different segments of windows in one room. It is better to know your bedroom construction first to make a difference which you actually looking forward to.
Minimal Beds and Furniture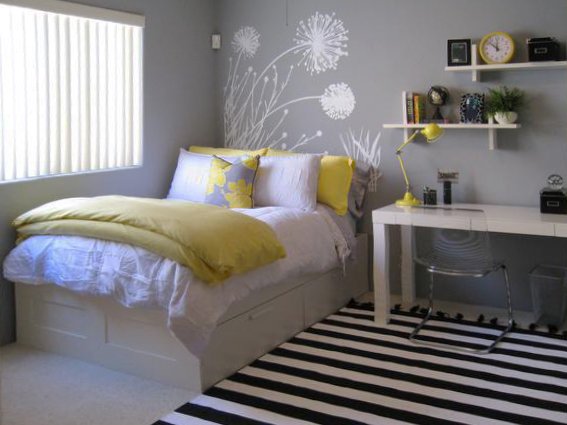 Yet this is the best strategy to adopt while planning for the bedroom for the brighter yet larger look. Oversized and Goudy furniture will not treat you well for its largeness in size in small bedrooms. Bring minimal furniture and beds to your bedrooms in a lighter shade whites, light powder pink, light blues and any light shades which complements your room and your behavior at the same time.
Minimal accents usually cut off oversized and clutter within the space and keep it simple and elegant at the same time. If we explore some interior magazines so they have enforced minimal furniture for the apartments, condos and other spaces. This kind of furniture occupies less space in a simplicity plays its role there.
Paint your Bedroom Walls With Light Color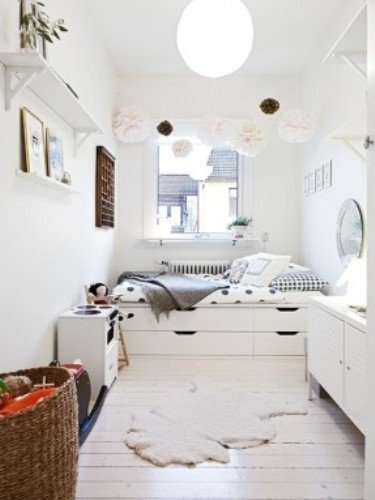 Light shades mean more brightness and that could only be possible if we know how to play with the colors. The balance in color selection is important and should be considered before planning to redesign your small bedroom. You can go for 'monochromes' which means light and dark shades of the same color.
If you are living near the Seaside, white and light blues will surely complement your bedroom and makes it bright and spacious. Goudy and loud sharp color would not be a sensible approach if you want a peaceful environment in your space.
Light Color Drapes/Curtains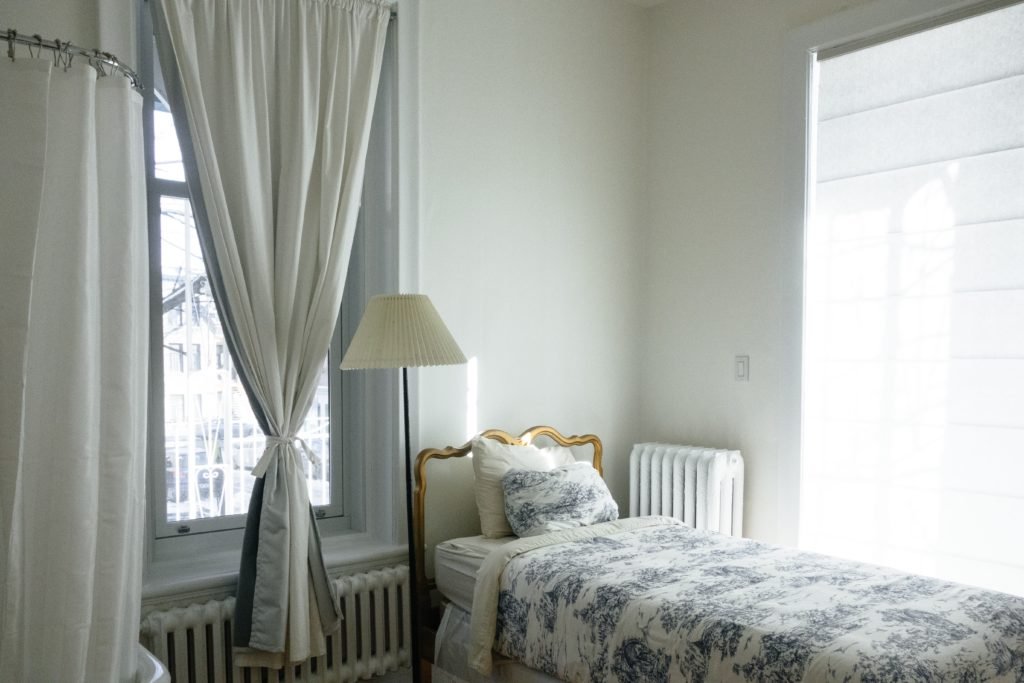 Like walls like curtains. For instance, if you have painted your walls in white then you can choose light tones of blues, greens, and purples to suits best with your bedroom furniture. Simply spread the same color of bed sheet and bed cover with the flowers on your side tables.
We must know the right balance of color before moving on because can affect a great deal on your bedroom's entire appearance. Ceiling cover curtains will bring the more spacious look of your bedroom. Make sure curtains would be in light fabric rather in the thick fabric which will not only block the sunlight, however, it will make the room warm which is only best in winters.
Add Extra Mirrors

Yes, we all love to see ourselves in every angle and it doesn't mean that make your room little mirror shop. Choose at least two large size mirror and hang them beside of your bed above your night lamps. Mirrored wardrobe doors are an elegant and clever choice for small bedrooms. They enhance the feeling of space, especially when the color scheme is white, as mirrors reflect light colors like white. So, while the overall color scheme remains the same, the sense of space is enhanced.
The Art of Matter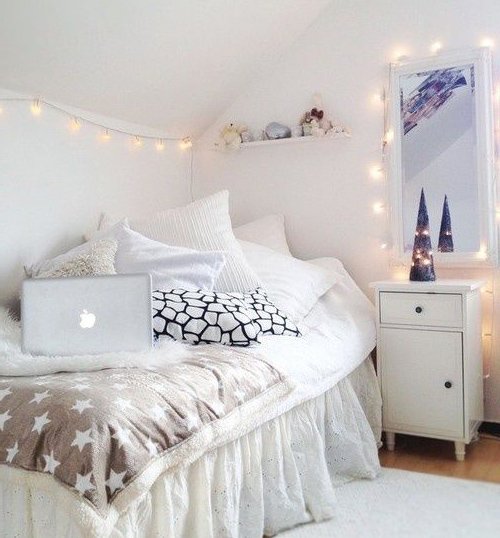 Hanging light shades of painting is one of the most effortless approaches to make a room look bigger yet brighter. The paintings in a room give your eye something to concentrate on past the physical border of the room and have the impact of extending space. "Try not to overburden the walls with heavy paintings, keep it light and simple.
Instead, pick a couple of bigger art pieces and place them on various walls of your rooms whether over the headboard of your bed or above your lamps. Doing as such makes your eye move around the space and you see the design requirements of the room less. When hanging over your bed an interior expert Marvin suggests keeping the workmanship inside the width of the bed itself and hanging it around six to eight creeps over the headboard.
Built-In Storage Furniture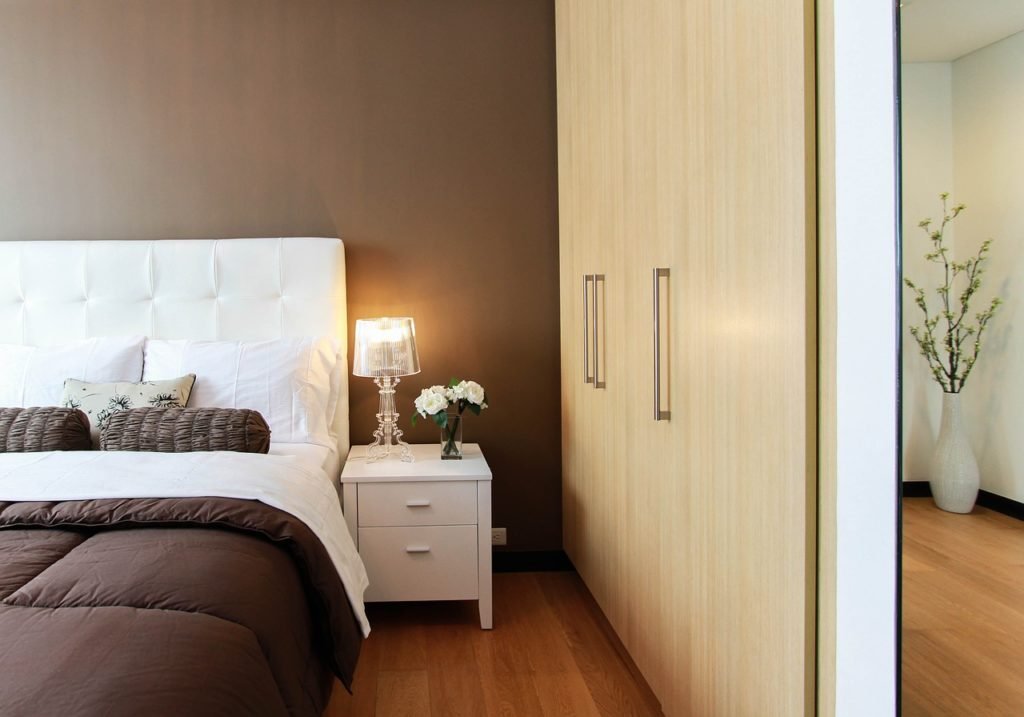 It's truly imperative to keep surfaces clear and have space to move around or for your eye to go. Furniture that has shrouded capacity is an extraordinary approach to keeping things flawless and clean. Stay away from substantial pieces like cowhide stockpiling seats that sit ideal on the floor and select a footed bed with capacity drawers. The built-in storage capacity usually consists of six dresser drawers, and on the grounds that the bed is on feet despite everything you get air coursing underneath, so it won't outwardly overpower the room.
These are some useful techniques which you can adopt to turn your small looking bedroom into bigger and brighter appearance. If you pick only one tip from the above, this will lead you to frustration and you will feel uncontented. Make sure you have enough money or pocket full while thinking to redesign your bedroom.