Can't resist having scrumptious pizzas and burgers on every weekend? Without having the mouth watering dips, some foods are incomplete like tomato sauce or dips made of this sauce. The chances of getting spots somehow are possible when we are more casual in eating. If you are the one who eats saucy foods regularly, you must have had disgusting stain marks of tomato sauce out of clothes, carpets, floors etc. Well, every problem has a solution right away. If you want to know how to get tomato sauce out of clothes or other surfaces, here are some best possible remedies to fight hard with these stains.
Sauces are cooked and oil content is also in them. Oil is stubborn to remove from different surfaces like carpets and fabrics so make sure you clean the tomato sauce out of clothes there and then without any delay as such materials penetrate into the nylon and polyester quickly as compared to floors and walls.
How to Get Tomato Sauce Out of Clothes
Have you tried different cleaning techniques to remove the tomato stains out of clothes and upholstery? Did nothing work?
Do you still want to wear your favorite dress which is already stained and you failed to remove it? Take your dress out after reading this article and get your dress in all over new look again with these magical cleaning methods. We have tried these methods before we've put here for you. It's convenient and easy going tasks and things are readily available at home.
Before sparing extra bucks on its dry cleaning, try these methods before to see some reasonable results in a budget friendly resources.
Clothes are made of gentle threads and nylon, make sure you don't use high concentrated cleaning mix available off the racks in the superstores. There are different remedies with high concentrations chemicals used to clean the tomato sauce out of clothes.
How to Get Tomato Sauce Out of Clothes with Detergent and Baking Soda Mix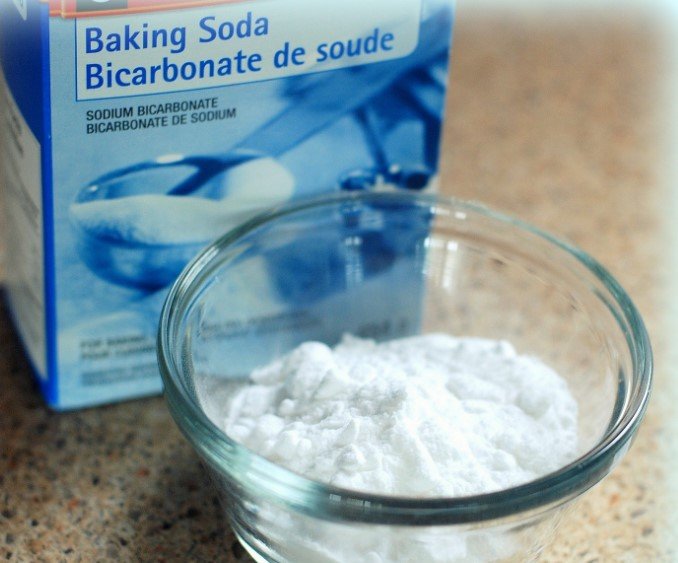 This is the new cleaning stain formula which you can easily use on your clothes due to their friendly reactions. Usually, people let their clothes soak in the bleach, we should know that somehow clothing bleach loosen the threads of the cloth.
Make a mix of detergent and baking soda or chemically we call it as (bicarbonate soda). Make sure amount of baking soda should be less than of detergent to avoid high concentration.
Mix them in a cold water and soak your dress for at least 3 to 4 hours, then take out and rub gently with your hands and keep checking if the stain has removed or not. Repeat this process next day if the stain is still there.
We believe this is the best solution to clean tomato sauce from the clothes easily at home without buying cleaning mixes from stores.
How to Get Tomato Sauce Out of Clothes- White Shirt Special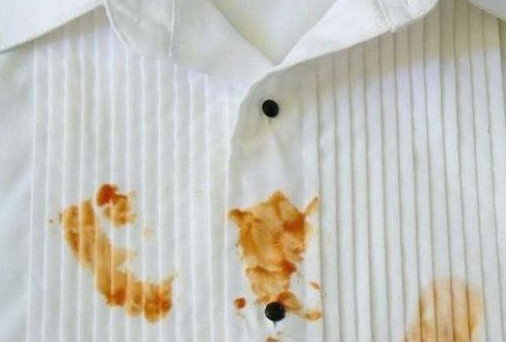 White dresses have an edge of using a bleach solution on them. By bleaching agent what we actually mean? Yes, not the traditional bleach bottle. However, we are talking about the vinegar to dab with a soft cloth after washing the stain out of a white dress.
If your official white dress has got a spot(s) of tomato sauce on it and it looks really creepy? Wash it with a dishwasher detergent easily at home to soak it for an hour. After it dries then dip a plain white clean cloth soaked in vinegar on the stained area on the shirt. Don't rub or scrub on the shirt as it will harm the threads. Just dab gently.
How to Get Tomato Sauce Out of Clothes Using Flushing Method
As a natural stain, tomato sauce can be dealt with well through the flushing technique. The demonstration of running icy water specifically on the back side of the stain. Flushing is a simple procedure, yet it should be done well to be compelling. As opposed to running water onto the surface of the stain, take a stab at holding the texture back to front, so that the water hits the back of the stain, rather than the front. This tends to work much better as it urges the stain and food deposits to leave a similar way that they entered – through strands that have as of now wind up noticeably swollen with the dampness of the sauce. Attempting to constrain build up through dry filaments is substantially trickier, and can even exacerbate the stain look.
Precautions before Cleaning Tomato sauce from Clothes
There are always Do's and Don'ts when we start any cleaning process.
The key steps involved in cleaning methods are
Don't Rub:
There is a stress in every article to not to rub the fabric to vigorously so that it won't harm the threads.
Pre-treat your stained cloth
Use detergent or any soapy texture first to remove it little bit pre-treatment is a great option. Just follow the directions on the label to apply a small amount of Persil detergent to the stain.
Wash as normal – Avoid high heats, as these could set the stains.