People with small bathroom often searches for small bathroom makeovers to give a bigger look to their bathroom. The problem mainly arises when you buy an old home or move to a newly rented house. Small bathroom makeovers have been very famous for few years because it is most efficient and cheapest way to improve the look of a little place.
Just focus on the available space and think about how to use it in the best way. When you look to remodel your bathroom first consider your requirements, what you have required in your bathroom? It would be comfortable for you if you have a plan. A clean and large bathroom can improve the quality of your lifestyle. Through these tips, you can make small tour bathroom apparently bigger.
1. Remove the bulk furniture
First of all, if you have bulk furniture then removes it from your bathroom. To get more space wisely, you have to add some double-duty items in your bathroom like mirror cabinet which can provide you a storage capacity. You can also store daily use beauty products in it quickly.
2. Floor and wall review
Floor and walls are the main areas of the bathroom through which you can change the whole look of a bathroom. Experts suggest the light colors for floor and wall tiles. While choosing ceramics tiles, select a great format because this format has the power to enhance the sense of large space. Large scale rectangular tiles of size 300mm x 600mm or 400mm x 800mm are considered as a good choice for this purpose.
3. Access to natural light
Natural light can also change the perception of space. Give natural light to your bathroom by installing roof window. In this regard window treatment or glazing can be an option also. Installing a large size window is wonderful. Additionally, bathroom blinds are available in different styles are considerable for adjusting light and privacy which may be a graceful addition to your bathroom.
4. Use of sliding doors
The sliding shower door is also a good option to give a bigger look to your bathroom especially when your door swings inward. The Same treatment can be adopted for cabinet doors. Sometimes cabinet doors create a traditional look so to get rid of them you can use slide cabinet doors also.
5. Create smart storage
Move with the idea of removing clutter to get extra space. Manage the storage space wisely and carefully. Try to keep few shelves so that you can maintain everything needed for your bathroom. If you want to install new shelves in your small bathroom, then you can consider the shelf over the toilet cistern or under the floating vanity unit.
6. Authority of lights and paint
Lights and paint are considered as a very authoritative source to give the impression of space. While choosing lights, you have to choose bright colors palettes. LEDs or Pendant lights can be the best option for you. Back-lights shelves are wonderful to add a sense of depth. Similarly, if you have an area for paint, you can develop the extended look by using light colors.
7. Make the best use of corners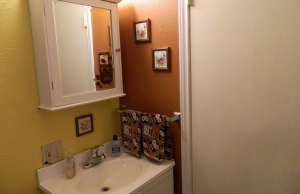 Sometimes corners are not utilized properly while you can get extra space by using correctly. If you want to install a new shower stall, then the corner is the best place for it. You can fix some shelves into the corner for things like soap, towel or some storage, etc. You can manage the things in corners by making the best use of them.
8. Small Fixtures and Fittings
When you have a small bathroom, its fixtures and fittings are matter seriously. Bathroom faucet, sink, water closet should be downsized so that they leads to create space without compromising on comfort. A guideline regarding spacing between fixture and fitting is given here just consider it.
Usually, a bathroom of size 3m x 2m is considered as a small bathroom.
Dimensions of a natural bath are found as 1500mm x 720mm x 400mm.
Standard size between powder room and vanity is considered as 2m x 1m.
For shower recess, space 900mm x 900mm is ideal.
1500mm is considered ideal between a back and a front wall of the toilet.