Your personality can strongly reflect by colors in your life and your moods can be lifted up through light colors in life. Moreover, you can make your life more colorful by choosing a beautiful color scheme for your living room. The paint color combination for living rooms plays a vital role in enhancing the effect of living rooms.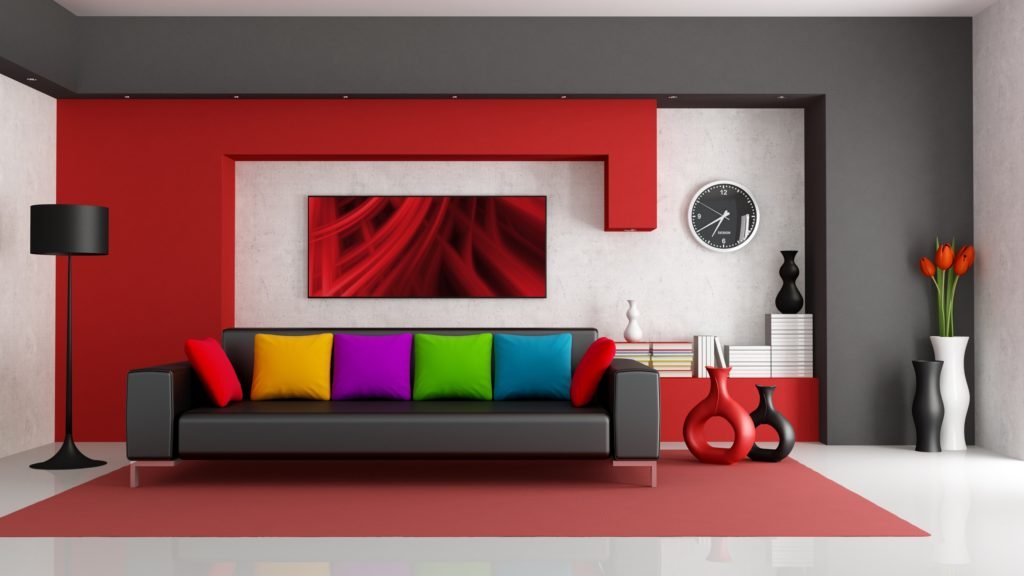 A blank canvas can be seen through the neutral room schemes. You can get a calming, soothing and uplifting effect through different shades. Moreover, your personality can also be reflected in your choice of various shining colors as well as soft furnishing.
We can get the calming and soothing effect by introducing the natural colors to our living rooms, for instance, soft leaf green or sky blue. You may also use other colors as yellow includes in the category of uplifting while red is known as a refreshing and motivating shade.
Importance of Paint Color Combination for Living Rooms
Using different, unique and soothing colors for walls as well as for furniture's is a key of decorating living rooms more beautiful and attractive for instance sofa with soft apple green color together with side tables with emerald metal color. Mixing the textures is also one of the great ideas such as combining sleek, glossy and silky lamp base along with walls of matte color. You should use different and elegant color schemes in all the areas of living room bay windows can one of the examples.
If you want to give a modern and a dramatic look to your living room, dark midnight blue color can be used to paint the walls for a great moody backdrop as well as vibrant shades and colors should be used to select furniture for an opulent look, for instance, hot pink sofa.
Block of colors and patterns can be combined as well as gorgeous wallpaper with teal patterned can be used along with a deep coral shade low-level modern sofa. Your interior can be decorated and adorned by adding vibrancy with rug designs and contemporary carpets.
Shades of the petal will work similarly well for a different touch of colors. You can adore your living room with lilac, pink or powder blue colors by adding floral or striped accessories. Light shades and colors will be used to give a feeling of a big room in case of own a small bedroom.
Best Paint Color Combination for Living Rooms
Following are some of the unique and beautiful living room color scheme ideas.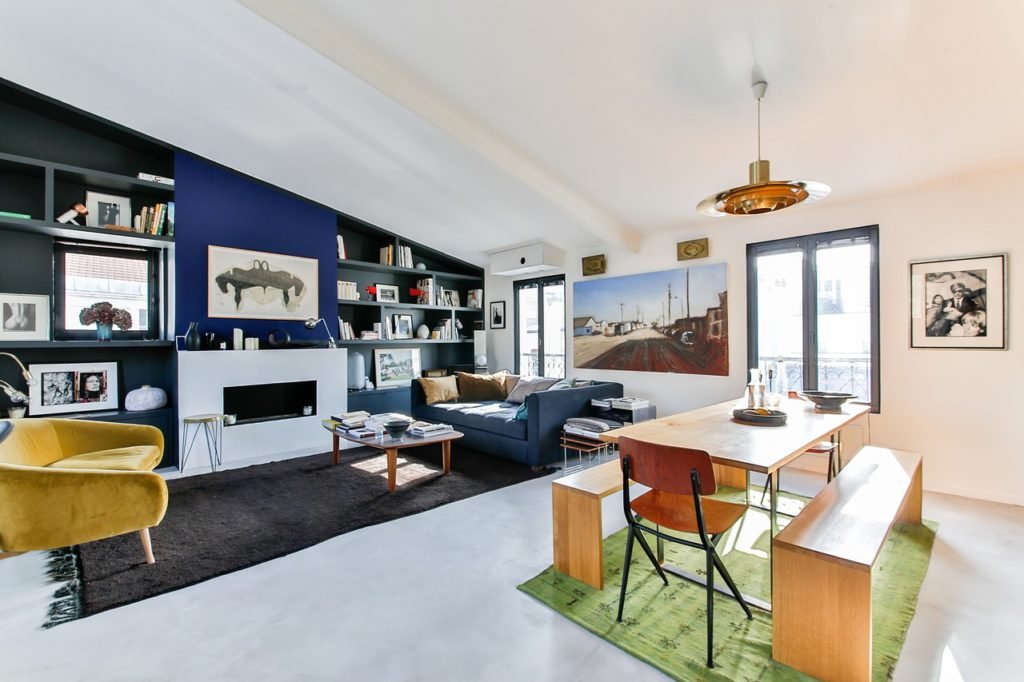 Vibrant Blue Living Room
To add interest to your living room, you need to mix the textures instead of using a single color. A glam factor will be added that will enhance the beauty of the living room through glossy finishing to rough luxury textures. A sleek contrast will be added to rugs and chairs through a curvaceous royal-blue lamp.
Bright and Beautiful Living Room with the Multicolored Modular Sofa
The big and the bright colors will be used in the perfect family space. A mixture of lovely and beautiful colors will be used to select a low-slung modular sofa for a flexible seating that brings a great fun to the family room. Colors will be popped that will be created through the backdrop if the walls will be painted with silky white color. The sofa will be the pride of place if other furniture will be minimal.
Pink and Indigo Living Room
An elegant and a dramatic fall will be created through a dark background against the spicy shades and for a laid-back look mix patterns will be used. For the opulent setting, a coffee table with sophisticated glass can be utilized as well as metal accessories, and colored glasses will enhance the vibrancies.
Blue and White Living Room with two-tone wall
A color feature will beautifully be created by using paint on a wall of a single living room. Two chalky blue shades will be chosen, and it will be separated by a delicate and gentle dash of white. Similar shades with distinct tone will be used all through the room including furniture as well as soft furnishing. With the help of this prominent and active color theme will be created.
White Living Room with Orange Accents
Colorful accessories in a neutral living room will create different tempers and moods in that room. A room will be warmed up through cozy burnt orange. It will make a perfect combination with 1960's iconic chairs. A coherent color scheme can be created through beautiful table lamps and squashy cushions. It can easily be updated with the changing trends and seasons. You need to be bold with the colors, and there will be a punchy shade for the porcelain background.
Modern Living Room with Bright Furniture
Carefully choose patterns and colors will give a spectacular look to your living room. You can place a beautiful colored rug in a particular area of your living room to add an elegant look. Cushions with organic patterns and a mixture of lovely shades will be used. There should be beautiful furniture around it that gives a beautiful and soft look and color of furniture should not be so bold.
A beautiful design scheme for a modern and elegant living room will be created through the limited palette. Only two colors will be used, for instance, white and blue. In specific areas of a living room, both of the colors will be utilized. So both of the colors will balance each other. You can use different patterns that will not give the room an overwhelming and sporadic look. Black furniture in a single piece will be utilized, and centerpieces will be obtained through the contrast.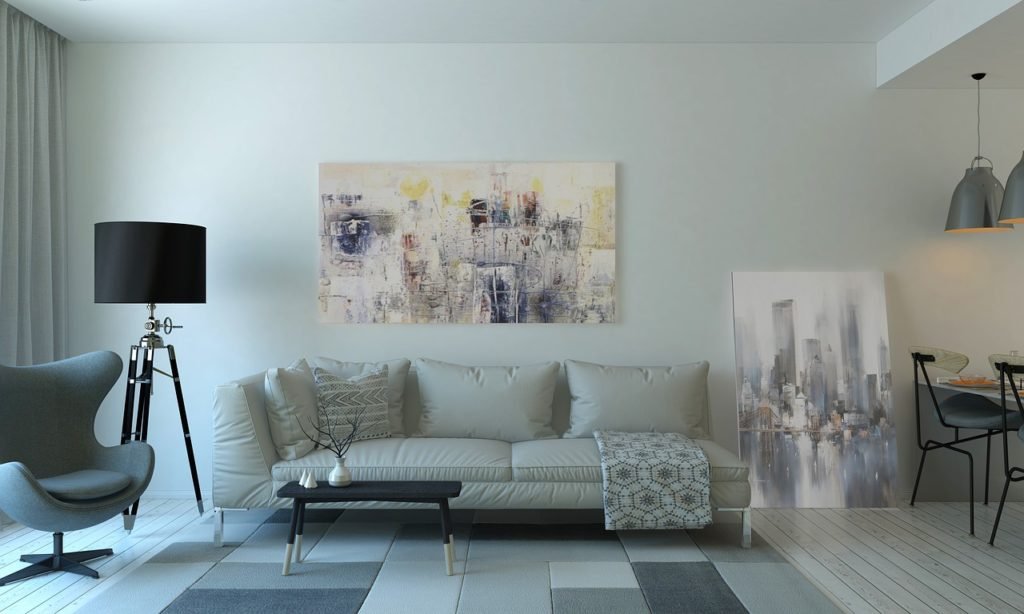 Emerald Green and Copper Living Room
The natural world can be recreated by setting metal, bold malachite print green color scheme metal accessories to make your living room excellent.
Colorful Living Room
A mustard wall with a subtle geometric pattern will enhance a little energy, life, and oomph in a living room. Adding plain soda to the living room is another best option.
Signature style should be established in the central area of the house that is the living room. The best designer color combination will be chosen for the living room that decorates your personality.